Psychic
(Japanese:
サイコキネシス
Psychokinesis
) is a damage-dealing
Psychic-type
move
introduced in
Generation I
.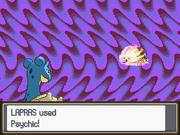 Description
Edit
The foe is hit by a strong telekinetic force. It may also reduce the foe's Sp. Def stat.
Same as Generation I, but with a 10% chance of lowering Special Defense.
By Leveling Up
Edit
By Breeding
Edit
In The Anime
Edit
Ad blocker interference detected!
Wikia is a free-to-use site that makes money from advertising. We have a modified experience for viewers using ad blockers

Wikia is not accessible if you've made further modifications. Remove the custom ad blocker rule(s) and the page will load as expected.